Saturday, May 5, 2018
Alexandria, Minnesota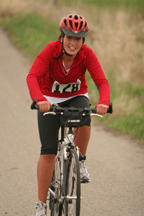 The Chain of Lakes Triathlon is the perfect triathlon to get your season going. Held during the first week of May, it's a great way to get your body out of winter hibernation and back into racing shape. Proceeds raised from the event are used to help fund local recreational organizations.
Going for over ten years strong, the Chain of Lakes is administered by the Swim Coach of the Alexandria Swim Club and a professional team of volunteers through the club, whose goal is to provide you with an enjoyable triathlon experience. Rest assurred that you'll be treated right.
The race will be timed by Pickle Events using MyLaps chip technology.
The race begins at the Alexandria Discovery Middle School, which is located at 510 North McKay Avenue.
From I-94:

North on Highway 29. East on 3rd Avenue. North on McKay.

From Highway 29 (Parkers Prairie):

South on McKay Avenue.
The race course is a short course and is an ideal way to start the season.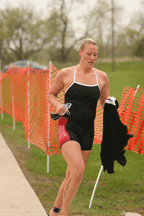 Swim

600 yard swim in 8 lane, 25 yard pool. Individuals will be placed in heats according to their estimated swim time. There will be 2-4 people in each lane. Please bring a person to count your laps, if possible.

Bike

The bike course will be 13 miles through the Alexandria area countryside along rolling hills, with 3 miles on the Central Lakes Bike Trail. All cyclists must observe MN traffic laws. Certified hard-shelled bike helmets are required. No listening devices are allowed on the bike course. Drafting is prohibited. See the course map.

Run

The run course will be 2.8 miles through a residential area and newly paved trail. See the course map. Listening devices are strongly discouraged on the run course.
Click Here for Event Rules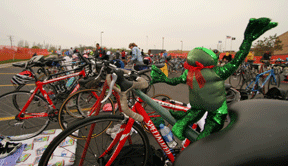 This year, the race will be held on Saturday, May 2nd.
7:00 to 8:00 am

Packet Pickup and body marking

8:30 am

Mandatory pre-race meeting

9:00 am

Race start

After last finisher

Awards ceremony. Results will be posted on this site.
Visit Explore Alexandria for a list of hotels and resorts available in the area.
Event Proceeds
Proceeds raised from this event will go toward local fundraising efforts including the Alexandria Swim Club and Lakes Area Recreation Association, whose purpose is to develop and improve the recreation opportunities for the Alexandria area.
The triathlon has raised well over $10,000 which was donated to local organziations such as the Alexandria Swim Club and the Lakes Area Recreation.
Ask a Coach
If you have any questions related to competing in a triathlon, click here to "Ask a Coach!" Very basic or more detailed questions are all welcomed and will be answered by a USAT Certified Coach.
Photo Credits
All photos courtesy of C5 Adventure Photography.
Top Finishers
Maximum Entries: 235
Registration closes on Wednesday, May 2nd at 11:59pm. No on-site registration will be taken.
Individual

$50 - Prior to 3/14
$60 - On and after 3/14

Relay

$75 - Prior to 3/14
$90 - On and after 3/14
There will be no refunds.
Participants may compete as an individual or as part of a relay team.
Individual

Those that expect to finish the race in less than 1 hour and 12 minutes should check the Elite Heat box on the entry form. Those in the elite heat will compete for age group awards with all individuals.

Relay

Two or three person teams may compete in one of the following categories: Local (all team members must live in the Alexandria Area) or Open.
Race t-shirts available for all pre-registered participants.
The awards ceremony will take place at the Discovery Middle School immediately after the race.
Awards for the first three places for each sex will be distributed in the following age groups:
19 and under
20-29
30-39
40-49
50-59
60 and over
Other awards will be given to the first overall male and female finisher, and the first male and female finisher from the Alexandria area.
The top three teams in each relay division will receive awards as well.
Results
Race Director

David Molesworth
(605) 670-0537

Lakes Area Recreation

(320) 762-2868
Sponsors